Comment: So what has been achieved by nine days of protests?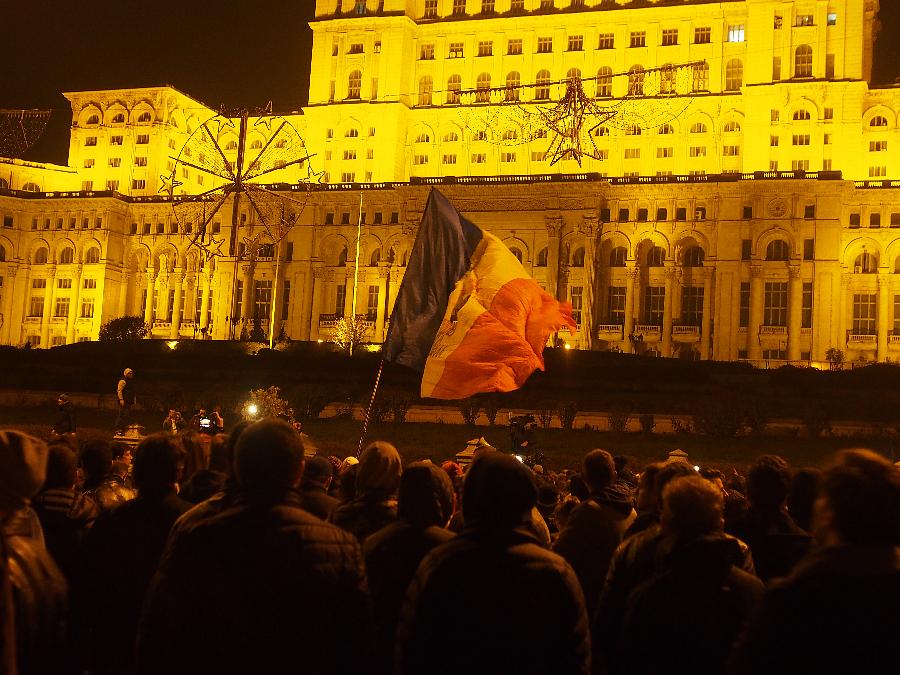 The death toll from the fire in the Colectiv club has tonight reached fifty-three.
Eight days of protests in Bucharest have come to an end - last night I am told there were only fifty people in Piaţa Universităţii - and what has been achieved?
Catharsis?
Perhaps. The spirit of the Romanian revolution of December 1989 was released again and walked among us.
The Prime Minister and the Social Democratic government resigned. Which is good. It is always good when Social Democratic governments resign.
But they were going to do so it this month anyway, I am told, by people who say they know. The carnage enabled Prime Minister Victor Ponta, who is being prosecuted for corruption, and his deputy Gabriel Oprea, blamed widely though unfairly for the death of a police motorcyclist in his cortège, to go with a decent cover - resigning for something which was not really their fault, any more than any other political party's. There were no fewer fire hazards when the National Liberals were in power than now or, going far back enough when the National Peasant Party were in government.
The word spontaneous is often misused in Romania to describe protests that are organized by political parties or even elements of the secret service, but Tuesday's 25,000 strong march in Bucharest seems to have been launched largely by people who did not have experience of demonstrations. This sense of community and public-spiritedness, which began with queueing to donate blood and collect money to buy medical supplies and led to the demonstrations every night, in a city where selfish individualism is very much the norm, was a very striking thing. Can this spirit last and achieve things?
President Klaus Iohannis yesterday nominated a technocrat, Dacian Ciolos, a former European commissioner and an expert on agriculture, as Prime Minister in place of Victor Ponta. A man who has served in previous National Liberal administrations but has spent much of his time in Brussels. An almost blank sheet of paper.
What did the crowd in the streets want? Someone tried to explain to me but I explained to him that crowds have no programme, no demands. Crowds have only the meaning that others assign to them. But most protesters certainly did not protest so that the opposition parties could replace the governing parties.
Technocrats are in principle undemocratic - a politician's job is not to run things efficiently but to lead and to make controversial and difficult decisions according to principles for which they have an electoral mandate. But Romanian political parties do not behave like this in any case to any noticeable extent and technocrats are a good solution to the needs of the times. They also have the advantage, from his point of view, that they leave only one elected politician in power, President Iohannis. In effect, he will now be running the country. Which is what many of the people who voted for him in December last year probably want. He is the only politician in Romanian who is respected because he is seen as an outsider, an anti-politician, a clean and successful mayor of a provincial town because he has done almost nothing and said very little since becoming president.
People wanted rid of 'the political class', all the politicians, but this, though very laudable, is very hard to do. And yet it seems almost to be happening. President Iohannis came to power elected by people who voted against the political class. He promised to clean it up but instead so many politicians are being prosecuted by the Anti-Corruption Agency (DNA) that the job is being done for him, far better than he could do it.
His not interfering with the work of the DNA, as the Social Democratic candidate Victor Ponta would probably have done, is his great and, so far, his only achievement.
Someone said to me tonight that everyone but a moron knew basement bars in Bucharest's old town were fire hazards. I am that moron, but anyway almost never go to bars. It's the bar owner's fault before the state's, he said, and the faulty of those organizing events in hazardous bars. I had to agree. We like to blame the state for so many things that are our fault.
The only real surprise, looking back, is that a fire like the one in Colectiv did not happen before. And not just because the fire department is dilatory, stupid and very fond of bribes, but because people - club owners, club employees, customers, bands, didn't bother to avoid places that, had they stopped to think, they knew must be fire hazards. And it is no good blaming corrupt and stupid officials, or their bosses, the stupid and corrupt politicians, for all manner of sins of omission. We the inhabitants of Romania should look at making the change in ourselves that we want to see in the world around us.
Comment: Could something good come out of the bloodbath at Colectiv?
Comment: Nothing in Victor Ponta's premiership became him like the leaving it
By Paul Wood, guest writer
Normal