Comment: Getting around in Bucharest by public transport with a disability - how is it?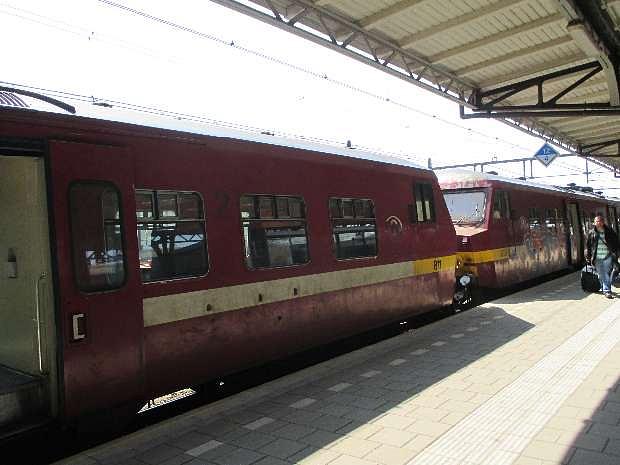 This week, a Flemish newspaper paid attention to the accessibility of Flemish public transport for people with a disability. An author in a wheelchair traveled from one side of Flanders (the Dutch speaking part of Belgium) to the other side, only by tram, bus, train and subway.
He hopes to be able to make the trip within four days! Traveling by public transport still isn't easy for people with a disability in Belgium. Many of the transport means still are not (fully) adjusted and one has to make reservations up to two days in advance. I wonder how this is in Bucharest. In fact, it's one of my most important points of attention during my intended stay in Bucharest, spring 2014.
Although Belgium is one of the more developed and richer countries of the EU, Belgian public transport is not that terrific. Here is a pic as an example: of a train model of which there are still riding around a lot in Belgium.
I can assure you that this train is totally inaccessible for people in a wheelchair. Both from the outside and on the inside Of course, there's also modern, adjusted material riding around in Belgium. But, in general it is too little and the replacement goes too slow.
As told in my first article in this series of guest contributions, I already traveled through 12 European countries in spring 2013. Since I can't drive a car due to my own disability, I fully depend on the plane/boat/public transport during my trips abroad. I soon found out there are large accessibility differences in Europe as far as public transport is concerned.
Of the richest European countries I visited, Germany and Finland turned out to have the best adjusted public transport. The public transport in Warsaw did surprise me positively as well. For instance by this modern tram.
Tell me about public transport in Bucharest
Before I started my trip, I did a little bit of research in advance with regard to the public transport and its accessibility in most countries. Not only with regard to the transport means themselves, but also concerning the inside of the train stations. Which is as much important to me, since I can only use one hand and only have one good functioning leg. You can imagine it's not possible for me to go up or down the stairs to the platforms with a big suitcase all by myself that way (my suitcase weighted more than 12 kg!).
In spring 2014, I will only visit Hungary, Romania and Bulgaria. I will thus have far less heavy stuff to carry with me. Still, the more practically, I can move around in a city by adjusted transport the better it is.
I'd like to hear experiences of Romanians with a disability with regard to this subject. How easy is it for you to travel around in Bucharest? What do I have to take into account? Is it easier to go by tram, bus or subway? How accessible are Romanian trains? Please let me know, so I can prepare myself. Send me a mail on [email protected].
I'm also still looking for people in Bucharest who like to be interviewed by me about this and other subjects related to living with a disability. See for example interviews here: www.disabledpeoplespeak.be. 
By Johan Peters, guest writer 
(photos by Johan Peters)
Normal