Comment: Dorel's Taxi, Bucharest metro stations and Romanian history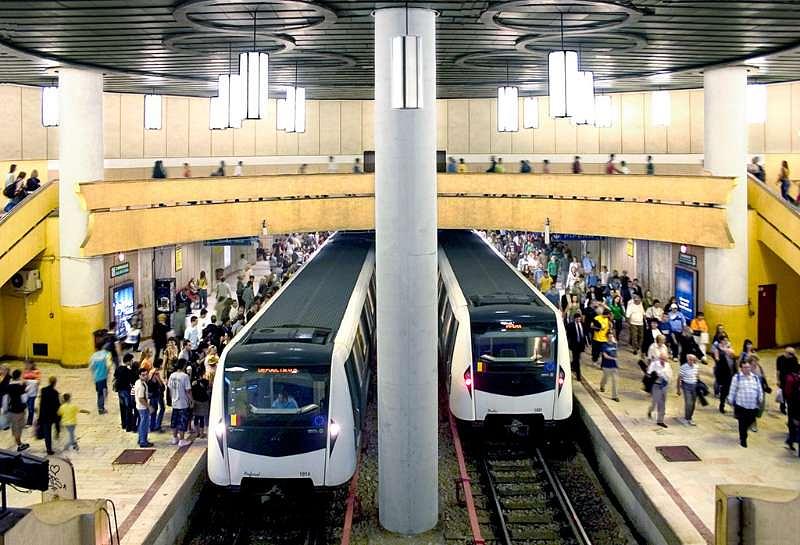 I decided to take a taxi home from work, recently. It was raining and cold. "Tineretului" I said cheerfully, and climbed into the back seat.
The taxi driver, I'll call him Dorel, took off like Michael Schumacher in pole position. We shot through a red light and soon reached Mach3. My thoughts turned to possible inscriptions for my gravestone. Vrooom!, Dorel's foot hit the accelerator again on Bulevardul Magheru. Instinctively, I whispered an atheist's prayer, "Beam me up, Scotty!"
And just as I spoke, the Starship Enterprise appeared in the distance, vast and glowing, hovering above the roundabout near the Intercontinental Hotel. Vrooom!, we reached warp speed as we took the roundabout at the hotel on two wheels.
I think I caught a glimpse of Spock's face, amazed, standing on the bridge of the Enterprise. Thoughts of inscriptions for my gravestone were interrupted by the possible exchange between Spock and Captain Kirk.
"A yellow projectile on four wheels moving at high speed, Captain. One terrified individual inside, praying to Scotty!"
"It's a Bucharest taxi, Spock. Arm the phasers, you never know what they'll do next. They're worse than the Klingons."
It was nothing short of a miracle. Without saying a word, Dorel had forced me to come to terms with my own mortality and the transient nature of life. He had succeeded where priests, religious icons, a few Popes and Patriarhul Romaniei had failed.
'Ah, the illusions of Youth,' I thought, in an Eminescu sort of way, a thought which connected me once more with 'Tineretului'. Tineretului means 'The place of youth' in English. In Romanian that sounds fine, but in English, it's a bit odd.
Although bouncing around in the back of Dorel's taxi like a cherry in a cocktail shaker, it occurred to me that the names of streets, parks, squares and buildings implicitly record the history of the society they belong to. In London, there is Trafalgar Square, for example. It commemorates 'The Battle of Trafalgar' in 1805, one of Britain's greatest naval victories, although Admiral Nelson was killed in the service of his country.
However, as the years pass and countries with glorious histories take wrong turns and enter uncertain and dubious futures, these names lose their luster. In fact, heroic names from a glorious past mock the latest generation of the society that coined them. And if you haven't had a glorious past to begin with, these names are just stupid.
And so it is with the Communist names in Bucharest.
'Apărătorii Patriei' - Defenders of the Motherland - is a good example. After a shoe repairer and a bunch of Communist băieţi deştepţi - smart guys - took over this wonderful country, they didn't defend the Motherland at all, they opened the door for the invader! The real defenders of Romania were the half-forgotten heroes of the Armata Alba - the White Army - Romanian patriots hunted down, tortured and killed by the Communists.
But back to my true story. I decided that I did not want my life to end in the wreckage of Dorel's supersonic taxi. So, gripping the back of the driver's seat, nails bleeding, I pulled myself forward and yelled in his ear, "Măi, coane, aici e bine!" - 'Hey, here is just fine, squire!' Dorel glanced contemptuously at me in his rear-view mirror then stood on the brakes! Thankfully, his lack of attention to maintenance meant that the taxi took another 200 meters to come to a halt. Dorel's careless 'merge şi-aşa' attitude saved me from exiting the taxi through the windscreen in a shower of glass.
Thankful to be alive and in one piece, I paid Dorel and gave a generous Scottish tip of 2 bănuţi then staggered onto the pavement. I decided to walk back to the metro station at Piața Romană and get home the safe way. However, as I got on the metro, I noticed the map of the metro rail system on the wall of the carriage. There wasn't a seat free, so I stood and looked at the map, trying to pronounce the names of the metro stations.
Then I realized that here was a map of Romania's history; the ordinary, the glorious and betrayal, all in one place.
Ștefan cel Mare - Stephen the Great, Constantin Brâncoveanu, and Mihai Bravu - Michael the Brave, were all inspirational leaders who served their country and its people. Nicolae Grigorescu, one of the founders of modern Romanian painting, and a writer. Anghel Saligny, an outstanding engineer who designed the Feteşti-Cernavodă railway bridge over the Danube, the longest bridge in Europe at the time.
Then, of course, the shameful betrayal of the 'Heroes of the Revolution' in 1989 - Eroii Revoluţiei - courageous Romanian citizens who died in a hail of bullets for a noble cause, but who were cynically betrayed and their revolution ripped from their hands.
Reading the names and thinking about the way Romania had lost much of her international reputation, I missed my stop at Tineretului and ended up in Sudului!
I left the train and crossed over to the opposite platform to go back. While waiting, I thought of how the names of some metro stations could be given new names to extinguish the dark Communist past and resurrect the real Romania. What about a metro station called Brâncuși? Or, Regele Mihai - King Michael? Or, Eminescu? Or, George Enescu?
By the time I got home, I was pretty tired. A full day's teaching English, Dorel's rollercoaster taxi-ride and thinking about how Romania's metro stations could be re-named to eclipse her Communist past had exhausted me. However, after kissing my wife then playing with our cats before sitting down to dinner, I thought of how I could use my poor Romanian to attract more foreigner visitors to boost the economy. Simply print T-shirts with the face of Vlad Țepeș on them and a Romgleza slogan written in a large gothic font underneath, 'Du-te Dracula!'
Well, it's better than 'Welcome to the Carpathian Garden', or whatever!
But as I was about to settle down to dinner with a glass of delicious Feteasca Neagra wine, my wife rushed into the kitchen and said: "There's a news flash on TV. A taxi has just been vaporized by the Starship Enterprise on Bulevardul Magheru."
"Was the driver called Dorel?" I asked, innocently.
"How did you know!?"
"Just a guess," I said. "This Romanian wine is wonderful, by the way," I added. "We must buy more."
By Angus McFarlane, guest writer
Normal