Comment: Bucharest still faces many accessibility challenges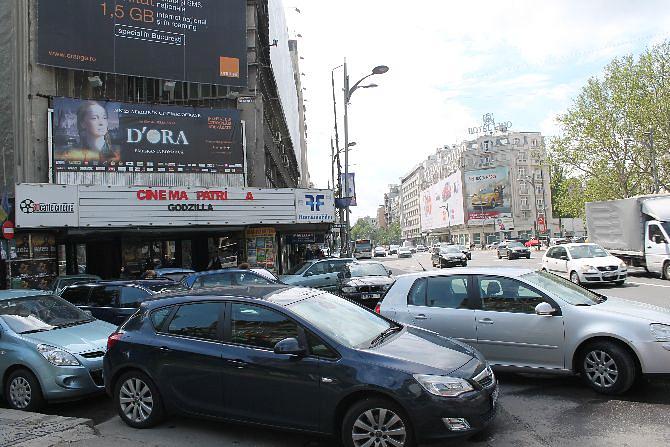 Guest writer Johan Peters traveled to Bucharest in May to assess the city's accessibility for disabled people.
From May 14th until May 18th, I visited Bucharest with regard to my project www.disabledpeoplespeak.be. As written earlier, this project is meant to find out how people with a disability throughout Europe experience life in their home country. During this trip I especially pay attention to the accessibility in the cities visited.
To start with the good news: Bucharest certainly isn't a very bad city when it comes to accessibility. My interlocutors told me public transport is partly adjusted to wheelchair users and blind people. Also public buildings get adjusted more and more. But, there still is a lot to do. I experienced myself as well.
Cars on the sidewalk
Although I have a walking difficulty myself, I am able to walk around in a city for a considerable time. That's what I did a lot when I had no interview appointments. I mostly walked around in the old city center.
Just like with old city centers in other European cities, one can't expect the pavement is as even as it should be. Difficult for people in a wheelchair. The fact that many citizens of Bucharest park their car wherever there's space, read: also on the sidewalk, is much more annoying in my eyes. The pavement is the territory of the pedestrian. I can walk around those cars, although it means I have to walk on the street where the traffic is racing. People in a wheelchair or the blind can't do the same as easily. Thus, a change in attitude of the Bucharest car drivers is needed very badly in my opinion.
Stray dogs
In advance, I had been a little bit afraid of walking around in Bucharest because of the stray dogs. Dogs don't always react 'positively' when they see me walk. Because it's rather peculiar, they sometimes get aggressive when they see me walking. They think I'm drunk or something like that. Fortunately, I didn't see that many stray dogs.
Stray dogs are also a problem for blind people I was told by my blind interlocutor. Blind people get scared as well when a dog unexpectedly starts to bark at them. Stray dogs are also one of the reasons why one never sees a blind with a guide dog in Bucharest. The guide dog would be distracted easily when confronted with a stray dog and therefore stop doing his job is supposed to do.
Hotel and restaurant accessibility
While spending my nights in a hotel, I always ask for a room with a shower. I can't get into a bath tub on my own and would never get out of it by myself. There are showers in many varieties. In a cabin, with a high or low step. Showers you just walk into. I don't know whether the hotel staff paid extra attention to my request, but I was given a room with a completely accessible shower. No cabin. One could just walk into it. Of course, it's very well possible all the showers are like that in Hotel Central, but I was very pleased with it.
It's practical when the hotel staff helps you when needed because of your disability. For instance during breakfast. I really had no complaints about this during my stay. The same goes for the restaurants I visited in the evening for diner. Whether it was a simple KFC or a more luxurious Romanian restaurant: everywhere I was treated friendly and helpful. According to my interlocutors, there has been a change in mentality towards people with a disability in Romania the past 10/15 years. Because people with a disability can be seen in the streets more and more, non-disabled people get used to them, so they said.
All in all, my visit to Bucharest was a pleasant one. The city didn't disappoint me. But, one thing did go wrong: I took a cab from the airport to my hotel, Wednesday May 14th. I knew from the moment we were going to drive the cab driver was cheating me gigantically. What could I do? Get out in the middle of nowhere? I stayed and paid him far too many lei. Should you recognize yourself, mister: you made bad promotion for Bucharest! I won't forget you!
Readers who are interested in the stories of the people I interviewed, I refer to the special Romanian section of my website. 
By Johan Peters, guest writer
Normal