Bucharest, on the practical side: Five low-cost recommendations from an expat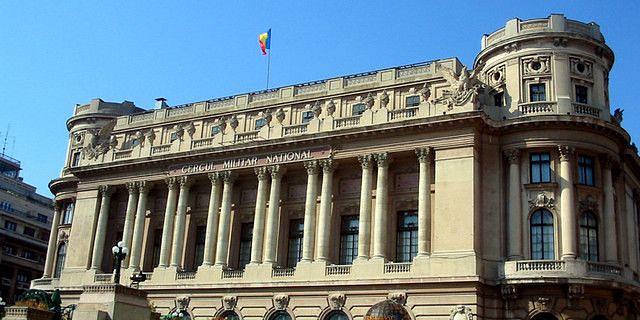 After six months of living in Bucharest, editor Shaun Turton takes a practical approach while recommending five things to do or see in the Romanian capital city.
So I've been asked to recommend five things in Bucharest, which shouldn't be too hard. I've been here roughly six months now, plenty of time to see things. Here's the problem though, I've seen lots of things – beautiful buildings, hideous buildings, parks, restaurants, palaces, clubs, monuments, bars, shows – you know, things people see. But there's already plenty written on these subjects, with nice photos and details like ticket prices and historical facts, which I'd just be copying from these other sources or making up.
So what I'm recommending, as a creature who likes having certain habits, is what you should find in your own neighbourhood. Places that correspond, relatively speaking, to the haunts, attractions and time wasting pursuits I enjoy within walkable distance of my apartment.
If your definition of walking distance is less lazy than mine, then you should probably check out a more respectable source of guidance than myself, like City Compass for instance.
1. Places that serve/dispense drinkable coffee
So if you are anything like me, you've had an addiction to coffee for some years and keep telling yourself that in the second half of your life you'll transition to tea to mitigate the damage it's probably doing to your health. So for me every morning there are four options.
In terms of quality, there's a pretty cool cafe on Mihail Kogalniceanu called, I think, Magazin De Cafea, which combines friendly service, an antiquated look with old black-n-white family photos on the walls and an expresso machine. It also plays jazz sometimes, but this is about four precious minutes away.
So, for speed, it's split between: The kiosk in Kogalniceanu square – little plastic cup machine coffee but served by a funny lady who's always making jokes, even though I only understand about a quarter of what she says; The Vel Pitar in the same area, where the general bitterness of the service is countered by a free sweet pastry with every coffee; and, a coffee machine situated in my local supermarket, which can't be beat for consistency both of the drinkable coffee and the "welcome, my friend" greeting by the friendly Turkish owner.
2. A Park
Every city dweller needs a park, somewhere to read, walk around and watch security guards carrying truncheons ride around in golf buggies or group patrol on push bikes. I haven't decided which is more visually funny and which might deter more criminals, wherever they're hiding in the beautiful Cismigiu park. Objectively this is the best park in Bucharest. Its cosy windy paths, lead past arbitrarily placed monuments, a selection of ramshackle vendors, a few restaurants, a peacock enclosure and a swan-filled lake, where signage wrongly states that the Tasmanian swan is the national bird of Australia.
Its population of chess playing, politician bemoaning, well dressed elderly folk coexist well with the young lovers embracing on the pigeon-bombed green wooden seats. Don't worry, the lovers are kept within the boundaries of decency by the brave and highly mobile security guards.
3. Cheap food and beer
No elaborate introductions needed for this topic, it's pretty self explanatory.
In summer, there was no place better, I thought, than the terrace of the National Military Circle, on the corner of Calea Victoriei and Bulevardul Regina Elisabeta. No more than RON 5 for a 500ml beer and a healthy serving of Romanian food, including my favourite Sărmăluţe cu Mămăligă, for under RON 15. The only thing I'd mention is the service was particularly contemptuous. Just making eye contact with a waiter, in a bid to get attention, is considered offensive. But I found this fun and I think, hopefully, we developed "a thing" where they would pretend to hate the sight of me and I'd continue to turn up and take ages to decide what I wanted, only to mispronounce it in Romanian and then change my mind again.
These days the colder weather, has pushed me across Regina Elisabeta to a couple of low-profile eateries along the south side of the boulevard. One has a picture of a Qantas advertisement from the early 90s selling flights to Perth. How many people ended up in Western Australia because of this poster is a great mystery.
4. Places to Drink
Places to go and appear social by drinking amongst strangers are also important. I'll leave The Old Town out of this mix because that's obviously the ultimate place to drink among crowds in Bucharest and once you're in there you can't trip over without falling into the service of alcohol.
During the warmer months, the James Joyce pub on the east side of Cismigiu had a good relaxed vibe on the terrace, although they could have knocked about 3 RON off the price of a 330ml Tuborg beer. In the same little neighbourhood, there's Control and its good summer-drinking front courtyard. The place often gets accused of being a bit hipster, but you don't have to speak to people if they look too pretentious. But that way you'll look pretentious and no one will speak to you. Green Hours Jazz Cafe on Calea Victoriei was also a great place when it was warm enough to enjoy courtyards.
However, dropping temperatures has meant going underground, literally. And recently Londophone, another establishment just off the east side of Cismigiu, has provided me with warmth, cheap beer and decent music.
5. Miscellaneous things to look at
I like old things at markets, I usually don't buy them because I have no money. But I like looking at them, you know, old watches, random newspaper clippings from 1927, dangerous swords that are sold next to pottery and collectable coins. So for that, you've got the regular weekend market in front of the History Museum on Piata Universitate and I think there's one down in front of Carol Park on weekends. Well, I saw one there once. There's also quite a good old bookshop and antiques store just opposite Spring Time on Strada Academiei. Thomas Antiques on the other side of Old Town gets a mention because they also serve coffee amongst the old miscellaneous stuff they've got on offer.
Conclusion
Well, I've reached about 1000 words and I'm not sure if I've helped anyone. So, if you did make it this far, please submit below the places and things included in your "I'm too lazy to find anything different" routines. Maybe a collection of these will help people – like myself – realise there's more to Bucharest than what can be reached in a maximum 15 minute walk from my apartment.
Shaun Turton, [email protected]
Normal