Bucharest gets ready to street party its way into 2014 – open air New Year's Eve parties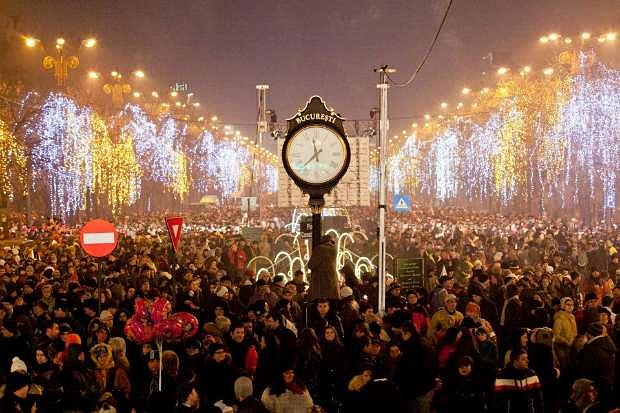 Bucharest will this year too join the group of European capitals where New Year's Eve can be celebrated on the street. Several parties and concerts are scheduled in different places downtown Bucharest, and the usual fireworks shows are promised for midnight.
At Constitutiei Square, just outside the People's Palace, the Bucharest City Hall will organize its regular NYE concert, where entry will be free of charge. Set to start at 20:00 on December 31, the concert will feature Romanian artists Loredana, Delia, Puya, Connect-R, Smiley & Friends, Mandinga, Voltaj, Vunk, What's Up feat. DeMoga Music, Shift, Adda, Liviu Teodorescu, Sorana, Ciprenko and Lally. The show's hosts will be Smiley&Friends: CRBL, Alex Velea and Andreea Bănică.
The midnight fireworks show will last for 15 minutes, organizers promise. They expect 40,000 people to join the party. Last year, 45,000 people celebrated NYE in Constitutiei Square (in picture).
Elsewhere in Bucharest, in the Titan park, the District 3 City Hall will also organize its own concert. Some of the artists who sing at the concert in Constitutiei Square will have to rush up for this one as well: Puya, Antonia and Vunk, who will perform on the same stage as Anes, Proconsul, Bere Gratis, Roua, Mihai Margineanu and Hara.
Those who prefer the indoors but would rather not spend a fortune on their NYE party have other options too. Two district city halls organize low cost parties for the occasion.
The District 6 City Hall will organize its already famous party at Romexpo. The party is nicknamed Vanghelionul – after the name of the District 6 mayor Marian Vaghelie, who has been organizing this party in the last 11 years. Last year, the mayor organized an indoors event at Romexpo, with an entry free, and a free outdoors event in Sebastian park. Details about this year's event have not yet been released on the official website.  Based on the previous years, several foreign singers are likely to attend the party at Romexpo;  singer David Bisbal attended last year.
Another party, this time organized in a tent behind the Drumul Taberei ice skating rink, is that of the District 5 City Hall. Entry tickets cost RON 150, and give access to music, dance, and a fixed menu. Entertainment will be provided by Daniel Lazar Band, Dinu Maxer, Pepe, Mandinga, Raoul, Ionut Dolanescu, Nelu Ploiesteanu, Datina, Alesis, Lavinia Goste and Marius Zorila. For this party, tickets can be bought at the special tent at Moghioros market, daily between 12:00 and 18:00.
Normal