Bucharest city tales: A 40-step guide on how to really integrate in Romania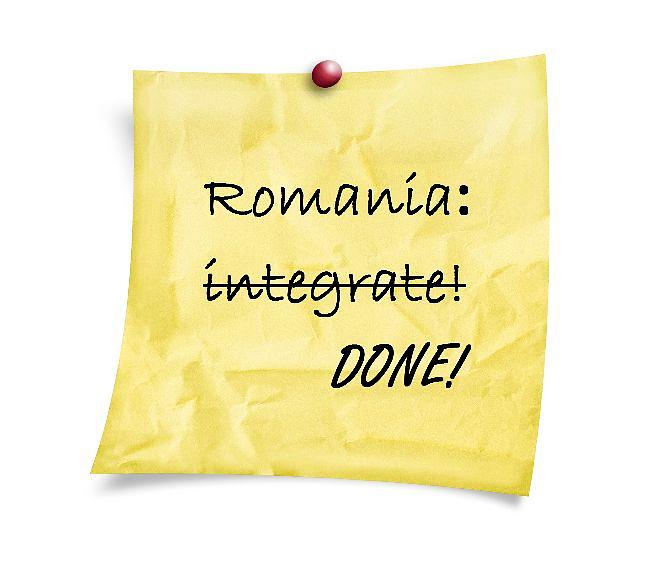 Columnist Eleonore af Schaumburg-Lippe writes in her weekly column about life as an expat in Romania. This week she writes about what you as an expat can do to really integrate in Romania - 40 steps that will help you on the way.
Sometimes when a friend asks me: 'How are you ?I would answer that my integration process is going really well or my integration process has gone temporarily wrong. In Denmark there is a general talk about the integration of foreigners, so I thought about a few steps on how to really integrate in Romania. The order is random, and some of them are ironic (not hard to figure out which ones). I must admit I still have a few of the steps to cross off on my list.
And you are of course welcome to add to the list, these are just ideas how to integrate in Romania :)
1) Do charity.
2) Go to a park and sit on a bench or lay on the green grass and just enjoy.
3) Support your local shop and buy a covrig (pretzel) a week.
4) Learn a handcraft, for example how to make wooden baskets of straw.
5) Slaughter a pig in the countryside to celebrate a birthday.
6) Hand wash your husband´s white socks.
7) Make your own wine.
8) Take the tram or bus, have no idea where you are going, enjoy the sightseeing.
9) Learn to cook zacusca, sarmale, mamaliga and ciorba de burta.
10) Being driven to People´s House by a taxi driver even if you initially showed him another address that you wanted to go to…
11) Have not one, but two mobile phones and remember to place them on the table, when you go to a restaurant.
12) Place your car key, that has to have keychain with a visible logo, on the table when you go to a restaurant.
13) Instead of throwing out clothes, books etc. put them outside your place, it could be useful for others and make someone happy.
14) Learn to buy one drink at a club and then sib it slowly so it can last for hours.
15) If you meet new people, present yourself with a business card, and walk away as if they work on a lower level than you; be a snob, because of course it will never happen to you one day to work on a lower level than you are now.
16) Go to a market and buy Romanian cheese and vegetables, especially tomatoes.
17) Try to say something in Romanian that of course means something else than intended.
18) Go to the Atheneum or Sala Palatului or Sala Radio for a concert.
19) Visit a neighborhood in Bucharest, one that you haven't seen before.
20) Listen to different kinds of music from traditional, pop, opera to manele.
21) Have a Facebook profile, and learn to say we continue the talk on Facebook.
22) Buy a bus or metro card and surf the transportation system, and enjoy the sometimes extraordinary shows you can see there, like a boy playing on an electronic piano on a bus.
23) Buy the newest technology when it comes to mobile phones, gadgets etc, learn how to use them and teach others how to use them.
24) Spend your entire salary on the first day, complain for the rest of the month that you are broke until your next paycheck arrives.
25) Attend a football match, booh and cheer along.
26) For the ladies: Always wear expensive and branded handbags.
27) Buy or rent a bike in a park and cruise the streets of Bucharest – Bike perspective.
28) For men: sunglasses to be worn all year around, also inside clubs.
29) For men: at least once you should go to a club with a tight white shirt, black pants, wearing a solid gold or pearl chain, sun glasses and stay cool.
30) Attend a barbeque or organize a barbeque.
31) Learn how to make mititiei with mustard.
32) Learn how to make your own palinca.
33) Don't wrap gifts for birthdays, just put them in a little paper bag bought for the occasion.
34) Learn how to make your own crèmes and hair masks based on natural products.
35) Always find an occasion to throw a party, gathering or celebration.
36) Drive a little horrendous, use your horn a lot and swear at others in the traffic, remember it's never your fault, always the others'.
37) Complain about your work, life, salary, opportunities on a relatively basis and finish the sentence with "Asta Este!." (a rough translation of that's how life is)
38) When discussing with others, you are always right and the one with the best or longest arguments wins the discussion.
39) When you attend a conference, and it's time for questions, don't really ask a question, instead tell something about yourself or a funny anecdote.
40) When you make a speech, remember: the longer the better.
And two bonus points:
41) When you meet someone on the street don't take both of your headphones out of your ear,you can leave one in, so you can still hear the music or answer if you phones rings.
42) Learn to drive a horsewagon in the countryside.
By Eleonore af Schaumburg-Lippe, columnist
Eleonore is Danish, she holds a BA in Organization and Management and specializes in Corporate Communication & Strategic Development. She is also a Market Economist and a Multimedia Designer. She has a burning desire to find out more about Romania, and love to enlighten the small differences in the culture between Denmark and Romania. Her weekly columns will give you insights into an expat's life in Bucharest written with humor and a big Danish smile.
Normal