Brief guide to illustrations on Romanian banknotes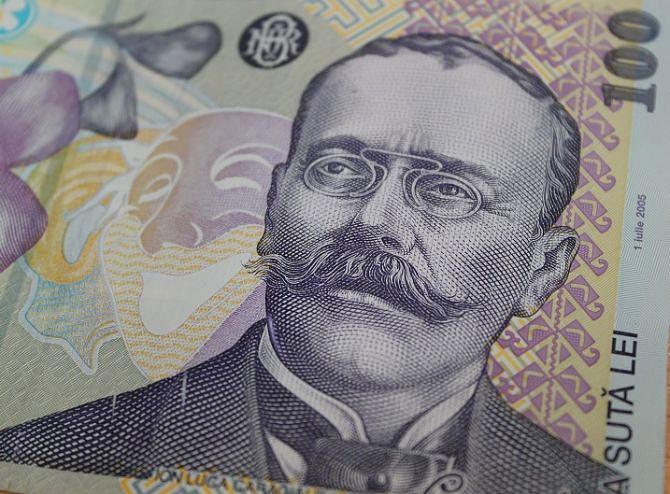 Those who live in Romania use these banknotes every day, but have they ever wondered who are the people and which are the buildings featured on Romanian banknotes? Here's a brief overview of famous people, buildings and plants featured on Romanian bills.
The RON 1 bill features the portrait of Romanian historian Nicolae Iorga, who lived between 1871 and 1940. He was one of the most influential public figures in Romania in the beginning of the 20th century and was even prime minister for a brief period between 1931 and 1932. He was assassinated by the legionnaires. On the front of the 1 RON bill there's also a gentian flower. On the back there's the episcopal cathedral of the Curtea de Argeş monastery and the ancient Wallachian coat of arms featuring an eagle holding a cross in its beak. (RON 1 is worth some EUR 0.22 at today's rate)
The RON 5 bill displays a portrait of Romanian violinist and composer George Enescu (1881-1955). He's the most famous Romanian musician of all times. Some of his most important works are the Oedip opera and the Romanian rhapsodies. On the front of the bill there's also a carnation flower, a violin and two musical notes. On the reverse there's the Romanian Athenaeum, one of the symbol buildings of Bucharest, a piano and a musical stave. (RON 5 is worth some EUR 1.13 at today's rate)
The RON 10 bill shows the portrait of painter Nicolae Grigorescu (1838-1907), one of the founders of Romania's modern painting school. Some of his best known paintings feature Romanian peasant women or oxen carts. A paintbrush and a palette are displayed near his portrait on this bill. The flower on the front is a hollyhock flower. On the back there is a typical house from the Oltenia region and a fragment of Grigorescu's painting Rodica. She is also the only woman depicted on Romania's banknotes. (RON 10 is worth some EUR 2.26 at today's rate)
The RON 50  bill features pioneer airplane builder Aurel Vlaicu (1882-1913), one of Romania's most important inventors of all times. During his short career, Vlaicu designed and built three airplanes of his own design. He died while attempting to be the first man to fly across the Carpathian Mountains. Next to him is a stylized airplane propeller and an edelweiss flower. On the reverse there's a mountain eagle head, a sketch of Vlaicu's second airplane and a sketch of an airplane engine section. (RON 50 is worth some EUR 11.33 at today's rate)
The RON 100 banknote features Romania's most famous play writer Ion Luca Caragiale (1852 -1912). The characters he created in plays such as "O scrisoare pierduta (A Lost Letter) have been a mirror of Romania's political class up until today. Also on the front of the banknote there are two theatre masks and a violet flower. On the back there's an image of the old National Theatre of Bucharest, which doesn't exist anymore. On its former spot on Calea Victoriei today stands the Novotel hotel. A statue of Caragiale is also displayed on the back of the banknote. (RON 100 is worth some EUR 22.6 at today's rate)
The RON 200 bill features Romanian poet Lucian Blaga (1895-1961), an open book with two of his poems and poppy flowers. On the back, there's the Neolithic statue "The thinker of Hamangia", one of the oldest artefacts found in Romania, along with a rainbow and an old water mill. (RON 200 is worth some EUR 43.35 at today's rate)
Romania's national poet Mihai Eminescu (1850-1889) is represented on the RON 500 banknote, the biggest value banknote in Romania. Eminescu is considered to be one of Romania's most important creative geniuses. His best known works are his poems, which speak of love, nature and historical events. But Eminescu was also a journalist and a political editorialist with strong views. Next to him on the banknote there's an ink pot and a quill and lime leaves and flowers. On the back there's an image of the University Library in Iasi and a page from Timpul newspaper, which Eminescu once run. (RON 500 is worth some EUR 113.3 at today's rate).
There are more than 820 million banknotes currently in circulation in Romania. Almost 250 million are RON 1 banknotes and only 6.56 million of them are RON 500 bills.
Normal