Back to home base, inspired by tradition: Marcela Cosnean, owner of The Country Hotel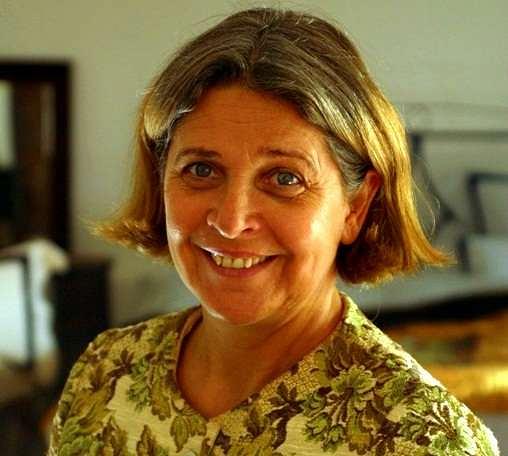 Guest writer Veronica Stancu from the Romanian Association of Women in Business met Marcela Cosnean, the owner of the Country Hotel in Harman, 10 km from Brasov in Central Romania. The interview was set in Marcela's inn, built in 1904, which she found in 1994 while searching for a house for herself, after years of living and working in Germany. Later on she revamped the building and turned it into an inn, and then also went into the textile production business. She produces bed linen and christening clothes under the brand M A R C E L L A.
I met Marcela Cosnean on a late sunny autumn day, at her Country Hotel, and we spoke in the inn's kitchen, which had a heavenly smell of pumpkin and cinnamon, a flavor which mixed with the smell of dry tea, kept in linen bags and the aromatic plants in pots.
What was the beginning of this place? Why did you start searching for it and how did you find it?
It was "love at first sight!" This is what happened in 1994, when I was looking for a house like myself and for myself: I saw lots of village houses, because this was what I wanted, but none were appealing enough, peaceful enough, central enough. None of them had a big yard, privacy, a secret garden hidden after a barn which beckons you to "dress" it in spring clothes till late in autumn.
In 2001 I decided to move "home" again, to Romania, to the house I had fallen in love with, in Harman, near Brasov. Every part of the house was redesigned to meet the requirements guests, rather than members of a family. The fruit of this love story, after hard work and care, is The Country Hotel.
What did you do before The Country Hotel?
Before this place, The Country Hotel, I lived in other places; beautiful and tough, full of work, but also of satisfaction. In 1985 I left for Germany, with a seemingly non related profession – I was a teacher. I managed to make my existence noticed, appreciated and loved; only through hard work, intelligence and believing in myself. I felt I was strong, that I could move mountains; I managed to be balanced, to enjoy myself and be a responsible mother in a place where I did not know the language, local customs nor the people, but I loved and respected them.
You cook for your guests and run an interior design company. Where did the inspiration come from?
I found the motivation and resources to start a desirable business: a bistro where I could cook what I knew best, offering the guests delicious dishes made with passion and joy. I also fulfilled another dream from when I was a child: interior design collections named M A R C E L LA: bed linen collections and christening gowns; these were activities I had not planned. They just came and never left me, or the other way around.
I was fortunate to be inspired by the most important women in my life: my grandmother and my mother who are no longer with me, but whom I keep in my heart forever; how could I not enjoy cooking when my grandmother was the "village cook", that is a chef in her community, in Covasna-Voinesti, where I spent my childhood. She cooked for weddings, christenings and other less joyful events, which were often attended by over 500 people! When I was little, I was so happy if I was allowed to go there with her, where the action was, that is in the groom's yard, for the groom's parents were the ones who organized the wedding. That bustle, the food I could taste and the atmosphere – even when I'm telling you now I get misty eyed and feel the need to experience that feeling again!
My mother was an accomplished housewife with an instinctive sense of elegance, a self-taught person; she taught me the basic rules in the kitchen, secrets only she knew and invented, tried and tasted. She continued and improved grandma's recipes, she was elegant in everything she did, as a human and a woman.
I think a dish "happens" once; you can't repeat it, the taste changes according to your mood and the people for whom you cook. I believe in golden rules, but with lots of culinary imagination; intuitive improvisation helps a lot in a traditional kitchen provided you love cooking and people! To my mind, cooking is a form of therapy, and my relationship with vegetables, fruit and aromatic plants is nuanced and mutual; only if you love and give will you be happy; the same with the love of plants and spices; to get something from them, you have to give them love and care, to build a sentimental relationship…
How did M A R C E L L A, your new business line, come to life?
It was something that also came from my grandmother. Apart from being a chef, she was also an virtuoso village tailor; she sewed with the beautiful Singer sewing machine all the clothes of the shepherds and villagers, pouches and warm cloth trousers, those wonderful shirts with special cuts. All those holiday clothes from home-made fabrics, from wool, linen and hemp took my breath away… it was wonderful, something I grew up with and enjoyed every day, normal things for me. The smell of wool and fabrics fascinated and keep fascinating me and I can't do anything about it. Furthermore, her family, my mother included, had a textile and wool preparation factory; after they lost it to the communists, we wove on wool fabrics illegally, a process I attended too, from the color combination to the motif creation, wool dyeing etc. How could I not do that, how could I leave aside this activity?
The M A R C E L L A is a continuation of that tradition, and I kept it alive in my heart until I came back to Romania, where I worked hard, I made myself known and I was noticed.
How do you manage to restore furniture, do gardening, sew children's clothes, make house soap, receive guests, cook for them, and make hundreds of stews and jams?
"If you like what you're doing, then why don't you do it" is my motto; only by loving your job and people, you can have the power and energy and I am strong and filled with love!
Who usually comes to your hotel? The Country Hotel was recommended in the Lonely Planet guide, so it's already famous abroad.
My guests are people with whom I can communicate, people who love true values, who want to know beautiful things, who appreciate a healthy, tasty, nice meal, made with passion, people who wish to rest in a peaceful place, to sleep in linen sheets (a wonderful sleep therapy), to have relaxing and interesting conversations, to feast their eyes and mind. They are mostly young, of which I'm glad; many foreigners came who trusted the Lonely Planet Guide , which had in turn trusted me. With time, the Country Hotel guestbook became full of comments of recognition and appreciation from all around the world: from Ecuador to South Africa, Europe and the USA; above the signatures, the same promise: to come back to the house with stories and an open heart! My guests have come back many times, which is the biggest reward for me and my work.
What do you want for the future and how do you think entrepreneurship among Romanian women will evolve?
I believe entrepreneurship among Romanian women is growing and developing nicely, with strong and confident women. Apart from our actions, our thoughts and intentions should always be directed towards our valuable young people. I'm also happy to find out that a new Brasov branch of the Women in Business organization will open, to which I want to dedicate time.
What's your guiding motto which you would like to share as inspiration?
The details in our lives make the difference. Love helps you find them.
The interview was conducted by Veronica Stancu, Romania Association of Women in Business, www.rawb.eu
(photos: Marcela Cosnean, thecountryhotel.info)
Normal