Anne Ampawan's touch of gold in winter times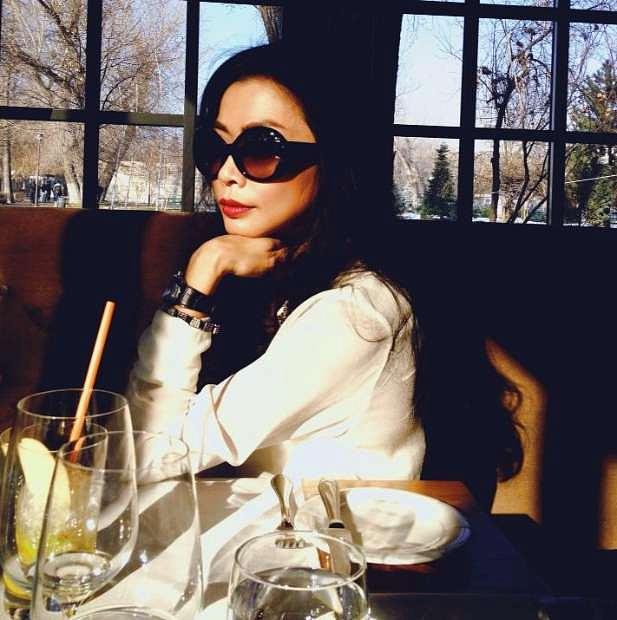 In Thailand there are orchids and jasmines everywhere. Anne Ampawan prefers winter.
On Child's Street (Strada Copilului) in Bucharest it's all quiet except for some boys playing football in a park near-by. Their almost-teen voices reverberate in the chilly afternoon air. No hint that the winter is about to come in only a few days.
Right in the middle of the street a boy walks slowly next to his bike together with a skinny girl with a ponytail. "Sorry, do you know where the Kunnai restaurant is?" The girl turns and she's actually a woman in her forties, probably the boy's mother. "It's right over here," she explains and points to a discreet restaurant door, located at the ground floor of a new residential block.
No more than one step inside the location and a waiter approaches me asking me about my reservation. "I am looking for Anne Ampawan." He points to a table at the other side of the room, where an Asian woman dressed in black works at a laptop. In front of her there is an older woman, eating something. She's Anne's mother.
"She tries to come here every year, because I need her secret recipes. I often say to my customers, this is real Thai food. If I do it wrong, my mom will kill me," says Anne in a low, jazzy voice.
Anne Ampawan is the owner of this restaurant, a classy, slender Thai woman, moving around in high heels, whose age you will surely never guess. "I'm very old, but I have to keep it secret. The people still love to ask it. At least the doctor says:  'don't do anything yet'.  Good," says Anne, emphasizing her words with a laugh and a cigarette. She always tricks you into believing that she's serious about it. She's not.
Except for the fact that she's very tiny, you could easily mistake her for a model. When she was born, weighing only about 2.4 kg, the doctor gave her the nickname Ant. "Then my mom said Ant is lovely, but she changed it to Anne, because my grandma couldn't pronounce it." A gold bracelet and a gold pendant are the only details on her black dress, which reveal her skinny, model legs.
"In Thailand everybody receives a nickname because all names are long," she whispers, taking a sip from a glass of Prosecco. A sort of painting displaying some strange characters and covering almost entirely one of walls of the restaurant stands as proof of Anne's words. Krungthepmahanakorn Amornrattanakosin Mahintrayuthethaya Mahadilokpob Noparat Rajataniburirom Udomrajanivej Mahasatharn Amornpimarn Awatarnsatis Sakatadtiya Wisanukamprasi: Bangkok's official name.
The restaurant seems to resemble Anne's appearance: dark-grey walls contrasted by some golden non-figurative paintings, all covered in a soft, not-too-dim, not-too-bright light, with jazz music playing. At one of the tables there is a Japanese family eating: on one side, a woman with smooth features wearing a green sweater and on the other side, a 40-something man and a girl about 10-year-old, wearing a pink ballerina skirt, who has taken her shoes off. It's probably the girl's birthday, as next to her there is a present bag. Anne stops by their table, talking to them in English.
"This is my first restaurant, but I've been in the restaurant business for more than 15 years in places like Bangkok, Malaysia, Singapore or London." She moved to Romania four years ago due to her husband Tomasso's job. She has followed Tomasso around the world, somehow the same way her mother had followed across the country her husband, who was working for the Government.
She interrupts our talk from time to time saying, "two seconds", or "one second" and runs to say hello or goodbye to the customers, who all answer with a large, impossible-to-fake smile. It's obvious they are totally charmed by Anne. "In certain days, the customers look at me as if I weren't the real Anne and they just say: Anne, I think you need to go up and sleep. Why's that? I ask. You look very, very tired." She lives above the restaurant in one of the apartments of the new residential block.  "The reason to open in the area it that we bought an apartment here. That's why when people ask, I tell them that I'm a lazy person."
While we talk, Anne's mother, Oi Vanrudee, sits at a different table. Even from a distance she seems elegant and solemn and it's impossible not to think that she must be feeling a bit lonely in this remote part of the world, even in this Thai restaurant, where nobody else except for two chefs and her daughter speak Thai. Oi, whose name means sugarcane, wears a white sweater with smooth gold lines, very delicate gold jewelry and has her eyes lined with black.
A jazzy version of Frankie Valli's song, "I love you baby", starts and one of the waiters pours for Anne another glass of Prosecco. In her fourth year in Romania and her first year since she's had the restaurant, Anne does feel at home. And she feels good. "How were you imagining your future when you were a teenager," I ask her. "The future? Never thought of this," says Anne Ampawan. "This was never in my idea of doing things."
By Diana Mesesan, features writer, [email protected]
Normal