A moment in time with John Riley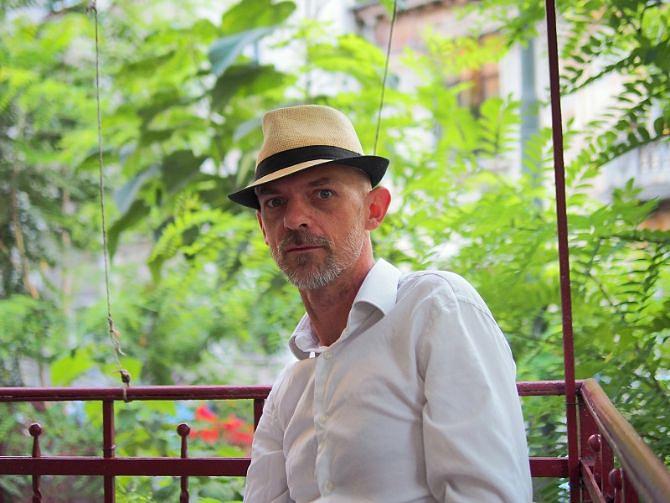 John Riley, the founder of the Sector 7 comedy group, talks about riding the wave at the right time, and stepping off the hamster wheel.
A tall man who wears a hat and who has a strong British accent tells a story to two other men at a terrace in Bucharest: some years ago, he got an invitation to a Lenny Kravitz concert, in Tokyo, that included a backstage meeting with the artist. So there he found himself waiting for Lenny, near a bunch of teenage Japanese groupies, but the star was too drunk to show up. The man who tells the story is John Riley, the founder of the Sector 7 project, a Bucharest-based comedy group and also a digital guerilla agency.
That wasn't Riley's first trip to Japan, nor his first encounter with a famous musician. At the beginning of the '90s, when he was 22, he moved to Japan for two years and had the time of his life. Later on, in the mid '90s, when he moved back to Great Britain, he shared an office in London with the press teams of U2 and Motorhead, and met Lemmy, the vocalist of Motorhead.
The list could go on, because one way or the other, John Riley's life has always been linked to music and travelling. Now he's 44 and has lived in Bucharest for almost ten years. He stepped away from his Sector 7 project a few months ago, and wonders what he'll do next.
The comedy
The car is speeding on the highway to Constanta and the five people inside are quite silent because they don't know each other. The driver picked up four hitchhikers going to Vama Veche, so everybody is there just for the ride. With my headphones on, I'm listening to the interview I did with John Riley a few days ago. "It happened to me quite a few times to hear people in bars talking about Sector 7, and hearing kids doing the lines back and forth. It's simply amazing," I hear Riley's voice in the headphones.
After about one hour of silent ride, one of the other passengers dares to start a conversation, "Sorry, what are you listening to?" I tell him it's an interview with John Riley, a British guy who founded the comedy group Sector 7. He seems a bit confused by the name of the group, but then another girl in the car explains, "you know, the group that made the video with the sunflower seeds addiction". Everybody goes: yeah, that was great! The mood suddenly shift in the car: everybody seems more relaxed.
It's comedy that always takes the burden off tense situations, Riley thinks.
He experienced the power of laugh many times in his life, including more than 20 years ago, when he found himself in front of a class of Japanese kids, having to teach them English. "A bunch of seven-year olds were staring at me, waiting to say something. I was 22 and I was pretty scared. That's a time when I felt: oh my god, I'm on a stage, what I'm gonna do next?" But he's always had a bit of a laugh, he grew up like that, so "I started making fun of them and the kids started laughing. And that was it. After that, I never had stage fright again."
The wave
When John Riley began his studies in Leeds, a city in West Yorkshire, in 1989, the place was still a big hooligan city. Students stayed in their part and the hooligans in theirs, but if they met it was often violent. However, in only two years the whole youth culture changed. "In 1990 the electronic music came, the ecstasy came and suddenly you'd be in a club and this guy with tattoos would be giving you a big hug: I love you, man, I love you. Everybody got caught in that."
At some point during the whole psychedelic experience, John Riley, who was studying chemistry, but slowly became disenchanted with the topic, went to see a Japanese animated film called Akira. It was a mind blowing experience for him. So after finishing university, his fascination about the Japanese culture, plus a small recession, made him decide to move to Japan. "Let's go there. See what happens."
Japan was doing really well at the time and they were playing ridiculous amounts of money for native teachers, Riley says. "At a private school they were looking for someone that could ski and teach English, so there I was." He lived in Kyoto, the old capital, a magnificent city, surrounded by mountains, having a lot of fun with the kids, meeting nice people.
"Between the age of 22 and 27, that's the formative period. At the college everyone is the same age, you are not really out in the world, it's just a transitional step. What happens to you next defines you for the rest of your life," he says.
But after two years in Kyoto, Riley decided to move forward. I ask him why would anyone leave from such a great place. "It was a moment in time, where it attracted a lot of people.There were Israelis there, Brazilians doing street stuff. It was like London in the '60s or Seattle at some point. It's just a moment of time and it doesn't last forever, it's just a conjunction of events."
"The best thing is to ride the wave then step off and ride the next wave," he adds.
"I always had that ability to make a change when I needed to. If you want to stay there for the rest of your life you'll never gonna fit in, never really be part of the culture. You'll only be this guy that knows a lot about the culture. It's just because you're not Japanese. It's a long way from home too."
The playground
Riley returned to Great Britain, where he opened his own web-design and marketing company, and he loved London. But he felt that living and working there was like running on a hamster wheel. There was no possibility to stop and reflect or just take a break.
When he was 23, he made a pact with a friend, one night, in a bar in Japan, that one day they would make a movie. So when this friend moved to Romania, John Riley thought he could start over, and actually do what he loves. He quit his job and moved to Bucharest in 2004.
He loved it here, because people are more child-like. "Do you know kids on the playground? They just start playing and talking and become friends. And people in Romania are somehow like that. Go to any bar, and you'll immediately meet people. They are more open."
In 2006, he wrote and directed his first movie, "What means Motley", which was loosely connected to the true story of a Romanian folk group who had signed up for a Folk Festival in Ireland and were given passes, but they never showed up, because it was a farce. Those in the "group" just wanted to get the Visas.
Riley founded afterwards the Sector 7 group, which started as a digital guerilla agency, and slowly added a short-form comedy dimension. Things went well until the crisis came, then slowed down. The group got back on its feet again this year, in April, and it was then when Riley decided it was time to step back and make a change. "Let's do something different. Then the fear comes in. Wow, I'm 44, I ain't got a career. But then: It's ok, it's ok. Because if you're willing to work hard and you believe in yourself - it sounds cheesy - but something will turn up."
The loop
If you stay too long in one place, you'll get in a loop, Riley says. "You got the same problems coming up over and over. And you get better at solving them, but they will always come up. Problems with clients, for example." But can you do that forever, keep moving on and making changes, I ask him. "I don't know...I don't know..but I'm gonna try. The only thing stopping you do that is fear."
For now he has decided on a longer-term project- he wants to open his own place- a bar, a restaurant, something like that. "I've also always wanted to have a bookshop. But this could be my retirement thing. Have a bookshop in the south of France that does coffee," he adds laughing.
By Diana Mesesan, features writer, [email protected]
(photo by Diana Mesesan)
Normal